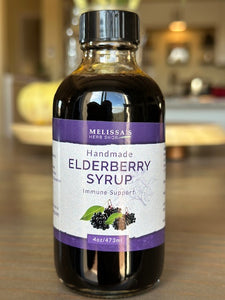 Elderberry Syrup
I'm grateful for these wild elderberries and their immune modulating, anti-viral, and anti-inflammatory properties.  Elderberries boast with flavonoids and vitamin c helping to keep inflammation down. Take the syrup at the very onset of a cold or flu or as a preventive. 
More health benefits of elderberry include antioxidants for clear and youthful skin, rich in vitamins and minerals, boost and support immune health.
I added the almighty echinacea for added immune and lymphatic support.  I gently spiced up this formula with organic ginger as ginger is warming and moving which helps move toxins out.

Ingredients:  Wild Elderberries, Echinacea Angustifolia, Organic Ginger, Ceylon Cinnamon, Organic Clove, Raw Unheated Wildflower Honey
Volume: 4 oz reusable glass bottle

Directions:  Take 1-2 teaspoons daily as a preventive. Take 1-2 tablespoons every hour at the onset of sickness. 
Dosage is half for kids. 
*Great for kids but not for kids under 1 year of age (raw honey in formula).  
*Please put in fridge upon arrival, keep in the fridge. 8 week shelf life. 

Warning/Disclaimer
These statements have not been evaluated by the FDA. This product does not intend to treat, diagnose, cure, or prevent any disease. If you're pregnant, breastfeeding, or on any medications, please consult with a qualified health professional before beginning any new herbal products.