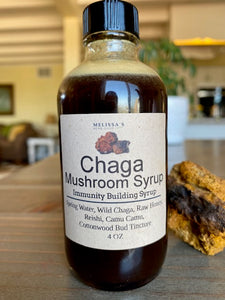 Chaga Mushroom Syrup
This is truly so medicinal.  I get my wild harvested Chaga Mushroom from a forager in most pristine area of Alaska. This syrup is perfect for all seasons to build immunity.  It will help support you and your immune system through all of life's stressful transitions. 
*Chaga mushroom is a potent anti-oxidant and anti-inflammatory. Known to help prevent cancer. 
*Improve overall health and boost immune system with Reishi Mushroom.
*Camu Camu is one of the worlds most potent vitamin c superfoods.
*Cottonwood bud tincture is helpful to ease painful sore throats and lingering cough.
Ingredients: Raw Unheated Mesquite Honey, Spring Water, Wild Harvested Chaga Mushroom, Wild Reishi Mushroom Powder, Wildcrafted Camu Camu Powder, Wildcrafted Cottonwood Bud & Vanilla Bean extract (extracted in alcohol).
Directions: take 1-2 teaspoons per day. More if feeling unwell. Add to tea, coffee, smoothies, pour on pancakes, and make mocktails. 
This taste so yummy! 
*There is a tiny amount of alcohol due to the cottonwood bud tincture which acts as a preservative. Cottonwood bud tincture has amazing health benefits. 
*Keep in refrigerator upon arrival to extend shelf life. Shelf life 6 months.
Warning/Disclaimer
These statements have not been evaluated by the FDA. This product does not intend to treat, diagnose, cure, or prevent any disease. If you're pregnant, breastfeeding, or on any medications, please consult with a qualified health professional before beginning any new herbal products.