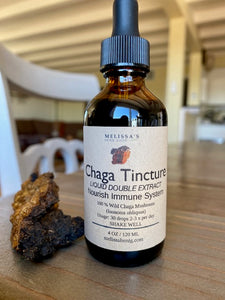 I love this gentle Chaga tincture.  It goes down easy yet it's powerful and mighty! 
Benefits of Chaga. Feel younger and healthier everyday with Chaga! 
* Nourish the immune system
* Provides ample anti-oxidants
* Supports energy levels
* Supports detox
* Healthy skin, hair and nails
* Adaptogen (help you deal with stress)
Volume: 2 ounce amber glass bottle
Ingredients: 100 % Wild Crafted Chaga Mushroom (Inonotus obliquus), Organic Cane Alcohol, Distilled Water 
Directions: Take 30 drops 2-3 x per day. Add to tea, smoothies, or straight into your mouth (tincture style) 
Warning/Disclaimer
These statements have not been evaluated by the FDA. This product does not intend to treat, diagnose, cure, or prevent any disease. If you're pregnant, breastfeeding, or on any medications, please consult with a qualified health professional before beginning any new herbal products.