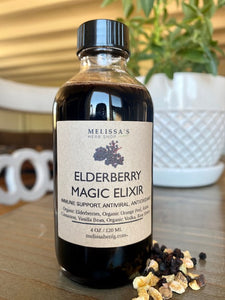 Elderberry Elixir (In Vodka)
This is lovely combination of Immune Support and aromatics for cold and flu season. I find when extracting plant constituents into an elixir its more of an enjoyable way for me to take than a traditional vodka tincture. Easier on children as well.
-Immune support
-Supports healing for upper respiratory infections
-Antiviral
-High in antioxidants and vitamin c
Volume: 4 oz 
Ingredients: Elderberry (Sambucus caerulea), Organic Orange Peel, Organic Star Anise, Organic Ceylon Cinnamon, Organic Whole Vanilla Bean,  Organic Vodka, Raw Honey
Directions: Take a tablespoon every hour during onset of acute cold and flu.  Take once a day for wellness. 
 This is awesome to have in your in home apothecary summer and winter! 
Warning/Disclaimer
These statements have not been evaluated by the FDA. This product does not intend to treat, diagnose, cure, or prevent any disease. If you're pregnant, breastfeeding, or on any medications, please consult with a qualified health professional before beginning any new herbal products.