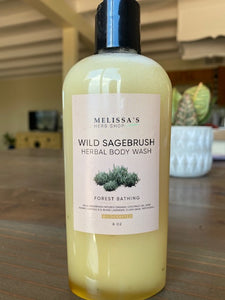 Wild Sagebrush Herbal Body Wash
I wash, shave, lather, and rinse with this luxurious, super safe, gentle, and extra moisturizing body wash.
Ingredients: Wild sagebrush infused in raw organic coconut oil, raw unheated local honey, castile, clary sage, lavender, and patchouli e.o. 
Volume: 8 FL oz
This body wash is all natural, safe and effective. Raw honey is excellent for the skin. It contains anti-microbial, anti-oxidants and helps retain moisture in the skin. 
Coconut oil is anti-bacterial and extra moisturizing and healing for the skin.
This 8 ounce container last a long time in the shower! A little goes a long way. 
It smells like you're forest bathing!