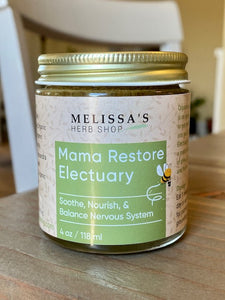 An electuary is an easy way to get more herbs into your everyday life. An electuary is a medicinal mix of ghee, raw honey, and herbs. 
Mama Restore is a specific formula for soothing, nourishing, and balancing the nervous system. 
I take 1 teaspoon a day for support during these high energy toddler years.  It will help everyone who needs nervous system support! 
I have adaptogens, nourishing tonic herbs, specific nervous system herbs, and driving herbs which help drive the herbs in deeper into your body for healing.  The fat from the ghee and enzymes in the raw honey are also drivers! 
Ingredients: Organic ghee, raw unheated honey, organic rosehips, organic ashwaghanda, organic schisandra berry, organic gutu kola, and cardamon (another driver).
Volume: 4 ounce glass jar
Directions: Eat 1 teaspoon a day
Relax and enjoy!  Slow down and be present with herbal flavors!