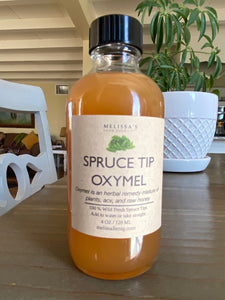 Spruce Tip Oxymel
This is truly a spring tonic that helps nourish and build the body.  An oxymel is an herbal tradition of mixing plants, apple cider vinegar, and raw honey together to make wellness remedies. The acid in the vinegar help pull the minerals and constituents out of the plants.
You can really taste the trees and vitamin c in this one! 
I harvested fresh wild spruce tips for energy, vitamin c, and immune support.  
The volatile oils in the fragrant spruce tips are beneficial for chest or sinus infection by helping improve breathing and improve digestion.
Spruce Tips are high in Vitamin C.
Volume: 4 ounce bottle 
Ingredients: Wild Spruce Tips, Raw Organic Apple Cider Vinegar, Raw Unheated Honey
Dosage: Drink 1/2 ounce a day in water or a straight shot.
Warning/Disclaimer
These statements have not been evaluated by the FDA. This product does not intend to treat, diagnose, cure, or prevent any disease. If you're pregnant, breastfeeding, or on any medications, please consult with a qualified health professional before beginning any new herbal products.