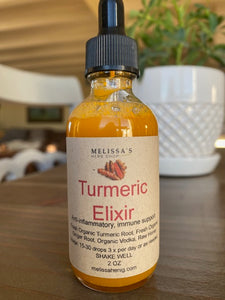 Turmeric Elixir 
Turmeric and ginger are well known for their incredible health benefits and over all health support.

I love this turmeric elixir for daily detox, a wellness tonic, and for anti-aging benefits. The powerful antioxidants in the elixir support clear, radiant, and glowing skin. I take 2 dropper fulls a day.
Turmeric Elixir Benefits- 
Anti-inflammatory properties

Immune support
Liver health
Powerful antioxidant
Improve joint health
Ingredients: Fresh Organic Raw Turmeric Root, Fresh Organic Raw Ginger Root, Organic Vodka, Raw Unheated Honey
Enjoy this golden elixir!

Warning/Disclaimer
These statements have not been evaluated by the FDA. This product does not intend to treat, diagnose, cure, or prevent any disease. If you're pregnant, breastfeeding, or on any medications, please consult with a qualified health professional before beginning any new herbal products.