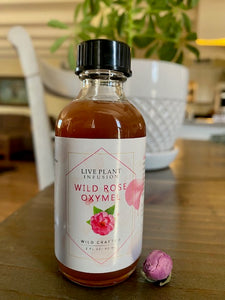 Wild Rose Oxymel
We love oxymels around our house. We add them to our water daily for added digestion support, immune support, vitamins, minerals, and flavor.

An Oxymel is an alcohol free herbal remedy made with organic raw apple cider vinegar and raw honey which extracts the medicinal constituents out of the rose.
Wild foraged flowers and foods have a much higher nutrient content and connect you to your true wild self and nature.
Wild Rose Oxymel Benefits: 
Rose is high in vitamin c and also a nervine to help relax.
Calm a cough
Congestion
Support immune system
Support respiratory system
Great health tonic
Aid in digestion
Potent and tasty
Wild Rose Medicine plus a Delicious Treat. Wild rose medicine also opens, softens, and protects your heart.
Volume: 2 oz glass bottle
Ingredients:
Fresh Wild Crafted Rose petals, Rose Hip Seed Powder (high in vitamin C), Organic Raw Apple Cider Vinegar, Raw Unheated Honey
Directions: Take 1-3 teaspoons a day
It's an alcohol free herbal remedy. Great for kids!
For the most medicinal value use with-in 1 year.
Warning/Disclaimer
These statements have not been evaluated by the FDA. This product does not intend to treat, diagnose, cure, or prevent any disease. If you're pregnant, breastfeeding, or on any medications, please consult with a qualified health professional before beginning any new herbal products.