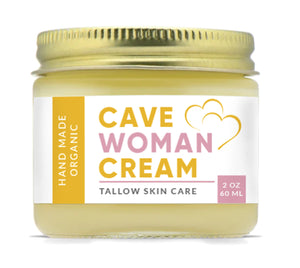 Cavewoman Cream
Cavewoman Cream is unique tallow skin care and is the original lotion of our ancestors. Beef fat was used by our ancestors to soften and nourish their skin. The fat soluble vitamins A, D, K, and E found in the fat soak right in and start feeding your skin. Beef tallow matches our skins biology better than anything synthetic you'll find in other products.  I have numerous testimonies of people using Cave Woman Cream whose rashes, dry skin, and eczema have greatly improved.
Tallow Health Benefits:
Grass-fed beef tallow contains high amounts of Conjugated Linoleic Acid or CLA which is an essential fatty acid needed for amazing skin health.
Beef tallow doesn't go rancid like other fats making it shelf stable and great for health and skin care products.
Beef tallow is made up of fatty acids which are the same building blocks of our skin.
Beef tallow has a natural spf of 4. 
Gluten free, GMO free, preservative free, free of synthetic colors and fragrance. NonToxic. Clean skin care. 
Volume: 2oz glass jar
Ingredients: 100% organic grass-fed, grass-finished beef tallow, organic cold pressed olive oil, therapeutic grade ylang ylang essential oil 
Directions: Apply liberally to whole body and face.  Apply to cracked heels and elbows, rashes, diaper rash.  Apply morning and night.  It's great for sensitive skin, eczema, and psoriasis.  The texture is smooth and creamy and applies easily while nourishing your skin!

Testimonial:

Hi Melissa, 
I have suffered from bouts of terrible eczema all over my body since I was a child. This last year has been a really killer (I'm 43). A few months ago I discovered your caveman cream at Lindy and Grundy. I have tried EVERYTHING on my skin and nothing has ever given me relief like your cream. I cannot thank you enough.  I just bought the last three jars today, because I'm spending the holidays with my girlfriends family in upstate New York, so I'm pretty sure I'm gonna need to be covered from head to toe with this stuff! Thanks again!Happy holidays, 
Jason
Warning/Disclaimer
These statements have not been evaluated by the FDA. This product does not intend to treat, diagnose, cure, or prevent any disease. If you're pregnant, breastfeeding, or on any medications, please consult with a qualified health professional before beginning any new herbal products. Not for internal use.