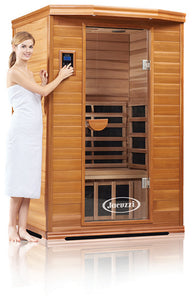 This is the far infrared sauna we have in our home. A far infrared sauna is the most important frequency for health benefits. 

I feel the sauna is one of the best purchases we've made for mind, body, and spirit. We use it daily! I especially look forward to our sauna in the cold winter months because the heat mimics exercise with sweating, detox, moves the blood, and boosts moods. 
The sauna is a comfortable way to internally heat up for detox in your own home. 
It's truly a therapeutic cabin in our home! 
Sauna FEATURES:

True Wave® hybrid carbon-ceramic low-EMF heating technology on the back wall, side walls, front wall under the bench, next to your calves and in the floor surrounding you with infrared heat
ELF shielding with the lowest ELF levels in the industry
Standard Chromotherapy lighting
Reservations mode so you can set your sauna to turn on up to 36 hours in the future
Furniture grade cabinetry
Distinctive door handle/smartphone cradle for easy media viewing
Comprehensive Limited Lifetime Warranty
Classic sauna design
Easy installation (normally about an hour)
Much more
When you call and order.  Please tell them Melissa sent you for $100 off! Thank you so much.
https://www.healwithheat.com/