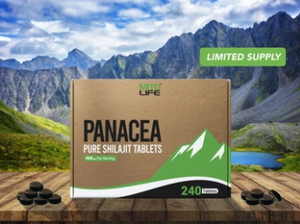 WHAT IS PANACEA?
Panacea is a pure tablet form of shilajit from the Siberian mountains in Russia. During the summer months, shilajit is naturally secreted from high elevation mountains in the form of a tar. Panacea is purified resin compressed into an easy-to-take tablet.
Shilajit is a complete trace mineral source, containing more than 84 carbon-bonded organic minerals that are easily absorbed by the body.* It is also a rich source of fulvic acid, a compound which increases delivery of the minerals into the cell, enhances the absorption of other compounds taken with it, and chelates and complexes inorganic minerals.*
It is a whole food supplement that brings mineral balance to the body in a natural way.*
This tablet form is a convenient and easier way to consume shilajit, especially in larger quantities. They can be swallowed whole and go well with a meal or a glass of milk. 
SUGGESTED USAGE:
Each tablet is 200mg. A good starting dose would be two tablets per day taken with a meal.
Please use code HERBMELISSA15 to get 15%off your order!